Welcome to the ninth edition of Fun Stuff, created by Aqua Yoshi. This page has entertainment for the visitors including videos, polls, music and more. A new volume come out every two weeks. Special thanks to Conker's Bad Fur Day and BlueSeven123. This edition was written by SnowWhiteYoshi, & AquaYoshi
True Or False
Edit
1. There is a secret Grey Yoshi in the background of every Yoshi game.
2. In Yoshi's Story, All Yoshis cannot eat Black Fly Guys.
3. In Super Mario Sunshine Yoshi cannot swim.
Finished? How'd you do? You can always check the answers at the bottom of this page.
Song of the Edition
Edit
This edition's featured song is a song featured in Smash Bros 4. Take a listen!
Are you hyped for Yoshi's Woolly World?
Cool Secrets
Edit
This edition's Cool Secret is a hidden feature in Mario Kart 8, please take a look!  
Speed Run of the Edition
Edit
Check out this amazing 22 minute speed run of Yoshi's Story!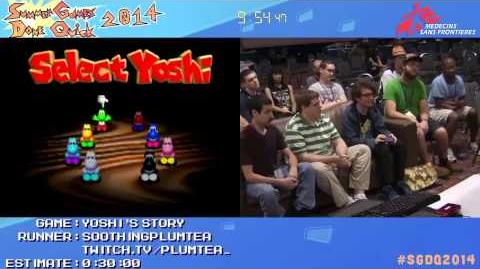 Answers To Trvia Questions
Edit
False
False: White and Black can.
True
Ad blocker interference detected!
Wikia is a free-to-use site that makes money from advertising. We have a modified experience for viewers using ad blockers

Wikia is not accessible if you've made further modifications. Remove the custom ad blocker rule(s) and the page will load as expected.