Yoshi's Woolly World
is a 2.5D game for Wii U system. It is the first Yoshi home console game since
Yoshi's Story
that stars only
Yoshi
. The game uses similar art material of yarn and textiles from the aforementioned game and Wii game from the Kirby franchise,
Kirby's Epic Yarn
, which was also developed by Good-Feel. The game was announced in 2013 and released in June 25, 2015 for Australia, June 26 for Europe and Japan, and October 16 in North America.
Confirmed Information
Edit
Characters
Edit
Amiibo Patterns
Edit
Every character (excluding Pokemon characters and Chibi-Robo) has a Amiibo pattern.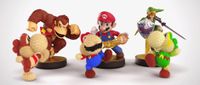 Flower Checkpoint (Not Tentative name)
When scanning an amiibo, Yoshi will have a design similar to that amiibo figure you scanned in! The Pokemon amiibo will not turn Yoshi into anything but the amiibo logo on it's belly.
This game does not feature Baby Mario.
Yarn Yoshi was actually not shown at E3 2013 because, as confirmed in a British issue of Official Nintendo Magazine, it was not ready to be shown off yet.
The digital version requires 7982.8 MB (approx. 7.8 GB) of memory to be installed.
Yoshi's Woolly World was originally called Yarn Yoshi. It's name was changed to avoid the game being connected to the Kirby game of a similar name.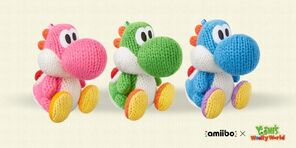 The game also has special Woolly Yoshi Amiibo! It's rumored that more colors will come out but the colors available to buy at the moment are Light Blue, Pink and the original Green Yoshi. There is also a giant Yarn Yoshi amiibo.
The game somewhat resembles world 3 of Yoshi's Story.
Ad blocker interference detected!
Wikia is a free-to-use site that makes money from advertising. We have a modified experience for viewers using ad blockers

Wikia is not accessible if you've made further modifications. Remove the custom ad blocker rule(s) and the page will load as expected.