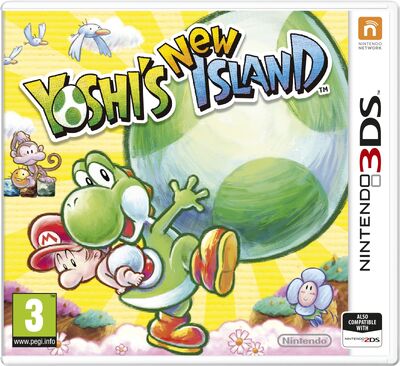 Yoshi's New Island is an installment of the Yoshi series that was released for the Nintendo 3DS. It was unveiled on the Nintendo Direct of 4/17/13 
The game is another addition to the Yoshi's Island series, the other games being Super Mario World 2: Yoshi's Island and Yoshi's Island DS, meaning some elements from the past games are sure to return. It was released on 14/3/14 (3/14/14) in America, Europe and Australia, and 7/24/14 in Japan.
The story features Yoshi traveling across the new island to rescue baby Luigi, and return the island to the Yoshi's. After fighting Bowser from the future, and rescuing Luigi, it is revealed that Mr. Pipe is actually Mario, who traveled back to the past to help Yoshi.
Yoshi's New Island is very similar to Super Mario World 2: Yoshi's Island's platforming with a few twists. Yoshi can also transform into old transformations such as the helicopter and new ones such as the bobsled or the jackhammer!
Confirmed Information
Edit
Characters
Edit
Playable Characters
Edit
Little Eggs, Big Eggs
Chomp Rock 'n' Roll
Cave of the Nipper Plants
Fort Bucket Booby Trap
Heads Up, Hop Up
Bouncy Beanstalk Walk
Ground Pound Rebound
Big Beanie's Castle
Koopa Canyon
Inside the Outside
Seesaw Scramble
Beware the Boo Brigade
Lantern Ghost Grotto
Gusty Glory
Hidey-Hole Hooligans
Count Fang's Castle
Rise of the Nasty Nep-Enuts
Ukiki Jammin'
Harry Hedgehog's Labyrinth
Slime Drop Drama
Don't Fear the Spear
Ukiki Trouble in Clawdaddy Cove
Lose the Lunge Fish
King Clawdaddy's Sewer Castle
Hop 'n' Pop Till You Drop
Underground Pokey Patrol
Spin-Lift Drift
Fort Key Calamity
Mega Eggdozers on a Roll
Chomp Shark Chase
Flatbet Ferry Freefall
Furious Fred de Fillet's Castle
Brave the Bumpty Blizzard
Fine Feathered Friends or Foes?
Ski Lift Leap
Ready, Steady, Go!
Cruise the Clouds
Fire Watermelon Wonderland
Eggstraordinary Terrain
Punkey the Pokey Prince's Castle
Chomp Rock Challenge
Bandit Valley
Gargantua Blargg Attacks!
Spray Day Mayday
Hotfoot Hurdle
Pyro Guy Peak
Crumble Rock Rumble
Bowser's Castle Break-In

​Make Way for King Bowser!
A white Shy Guy with green spots, which transforms into a duplicate of Yoshi.
Beanies.
Golden Chomps that shoot out of volcanoes in the background.
Metallic Shy Guys.
Pokeys.
White Pokeys that hang upside-down.
Returning
Edit
Blarggs
Blow Hards
Bumpties
Bullet Bills

Bouncing Bullet Bills
Bill Blasters

Caged Ghosts
Clawdaddies
Cloud Drops
Crazee Dayzees
Dizzie Dandies
Dr. Freezegoods
Eggo-Dils
Flopsy Fish
Flutters
Goombas
Goonies

Bowling Goonies
Flightless Goonies
Skeleton Goonies

Flightless Skeleton Goonies

Hefty Goonies

Grinders
Grunts
Gusties
Hootie the Blue Fish
Hot Lips
Jean de Fillets
Kaboombas
Koopa Troopas
Lakitus

Fishing Lakitus
Thunder Lakitus
Wall Lakitus

Lava Drops
Little Mousers
Piro Dangles
Praying Mantas
Ravens
Seedy Sallys
Short Fuses
Shy Guys

Fly Guys
Giant Shy Guys
Spear Guys

Spray Fish
Tap Taps
Toadies
Zeus Guys
Items/objects
Edit
A pair of binoculars with wings
Mega Eggdozers
Metal Eggdozers
Warp Pipes with eyes
Minigames
Edit
Ground-Pound Pop
Tulip Toss
Flutter Fortune
Enemy Eat-Off
Eggy Pop
Flutter Finish
Nintendo Selects
Edit
The game was re-released as a Nintendo selects game in early 2015.
Wallpaper
Edit
Walkthroughs
Edit
Collectibles Guide
Edit
External Links
Edit
Ad blocker interference detected!
Wikia is a free-to-use site that makes money from advertising. We have a modified experience for viewers using ad blockers

Wikia is not accessible if you've made further modifications. Remove the custom ad blocker rule(s) and the page will load as expected.