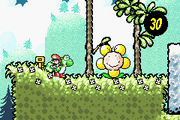 Eggo-Dil
is an enemy that appeared in the game
Super Mario World 2: Yoshi's Island.
They are daisy-like enemies with a smile on their face. They can attack
Yoshi
with their yellow petals, but Yoshi can just eat them so he can gain more
eggs
. They can only be defeated by using a Chomp Rock on them, and a ground pound can stun them. Their faces can't hurt Yoshi.